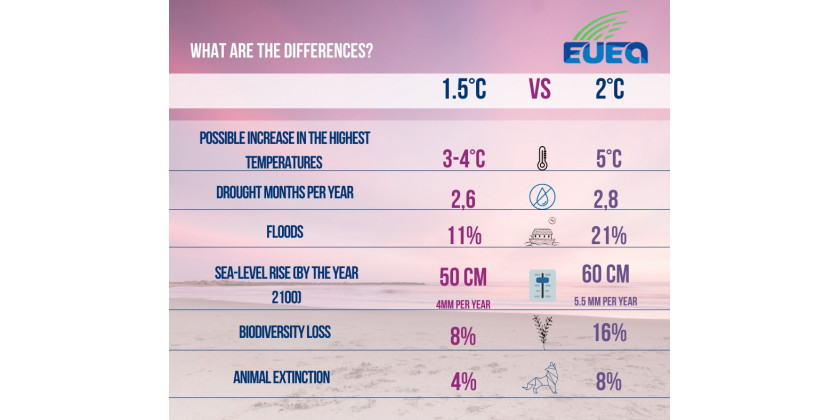 Have we already reached the goal of the Paris Agreement?
The long-term target temperature (Temperature target) sets the goal of the Paris Agreement and sets 1.5 ° C as the warming limit in the long run. The goal is to "reduce the risks and consequences of climate change," as defined in science, and not to achieve the goal only in terms of a number of temperatures.
 Frequently Asked Questions: "Have we already reached the Paris Agreement of 1.5 ° C? Or how close are we? »
The simple answer is no. According to the IPCC (Intergovernmental Panel on Climate Change), we can reach or exceed 1.5 ° C warming between 2030 and 2050 if we follow current emission trends.
 The Paris Agreement commits governments to keeping global warming "well below 2 degrees Celsius" and "making an effort" to keep it below 1.5 degrees Celsius.
 According to research by the Energy and Climate Intelligence Unit, we would like to show you the difference between 1.5 ° C and 2 ° C (see infographic).
 Therefore, EUEA insists on increasing the share of clean renewable energy use and energy efficiency.
 EUEA is a powerful industry association that brings together well-known international and national Ukrainian investors with a total investment of over 3.5 billion euros in renewable energy in Ukraine for the construction of over 2.7 GW of renewable power plants using the sun, wind and biomass.
 EUEA is an independent non-profit organization, open to all participants in the energy efficiency and renewable energy market of Ukraine, who aim to cooperate constructively with like-minded companies. Together, we strive to contribute to the transparent development of these markets, by promoting fair and sustainable business development, raising public awareness of energy issues, and by influencing government energy policy.
EUEA / European-Ukrainian Energy Agency