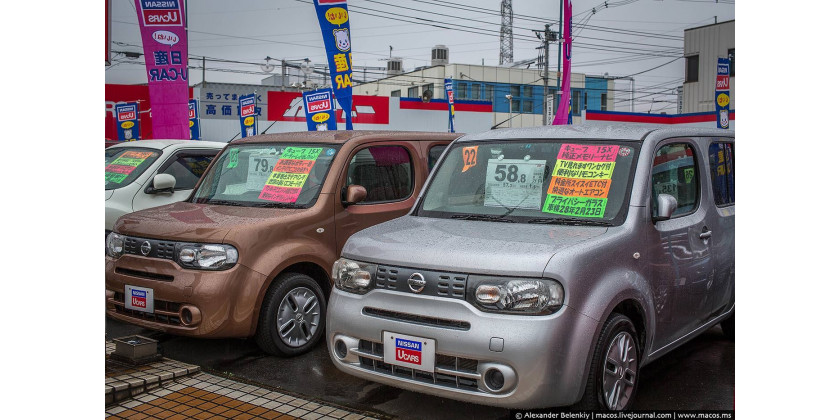 What cars do the Japanese drive?
A typical car in Japan looks like a refrigerator on wheels.
Japanese cars can be found all over the world. But the Japanese themselves do not drive such: most of the models are made specifically for the West.
Their fleet is very, very strange. A typical car in Japan looks like a refrigerator on wheels. Why it so happened - let's try to figure it out.
You are not surprised that the cars here are small. Still, they live on islands, there is not enough space, the cities are densely populated. The most popular compact car here is the Honda Jazz.
The brands are the same, the models are completely different. Nissan, Honda, Toyota, Suzuki produce incredible freaks for the domestic market. A typical Japanese car is a small minivan that looks very much like a refrigerator. Or retro geeks.
The fact is that in Japan, the cars we are used to are divided into two types: ordinary and "light" cars. They are also called "kei-kars". Light cars are made in the form of a van or even a truck. They differ from ordinary cars in low power, high efficiency and yellow numbers. And most importantly, to buy such a car, you do not need a certificate of the availability of a parking space and taxes are significantly reduced.
Parking in Japan is tough. I mean, it's so strictly regulated that you won't be sold a car until you bring proof that you own or lease a parking space. There are free spaces in the yard, but they cannot be officially rented? That's it, you can't buy an ordinary car. This is the secret of the popularity of kei cars.
Are you used to Subaru making sports cars? Here - not at all. If the most American car is a huge pickup truck, then the most Japanese car is a tiny minibus. In which the whole family travels.
Let's take a closer look at the model range, go to a car dealership. Large numbers and special offers hang on the windows. They have nothing to do with prices. But small cars are very cheap, you can actually buy a used one for 3.5-4 thousand dollars. Do they really look like refrigerators? But there is not much food here and there is not very much luggage.
A great example of Mitsubishi TownBee, the city bee. Very cheap and very scary. But they still have cute cars.
Kei cars have one more feature. Inside, they are all about the same. But what about Land Cruisers and other big jeeps? During a week of traveling in Japan, I met three of them. This is a huge rarity, and most importantly, no one needs such coffin trucks here.
Source: Alexander Belenky